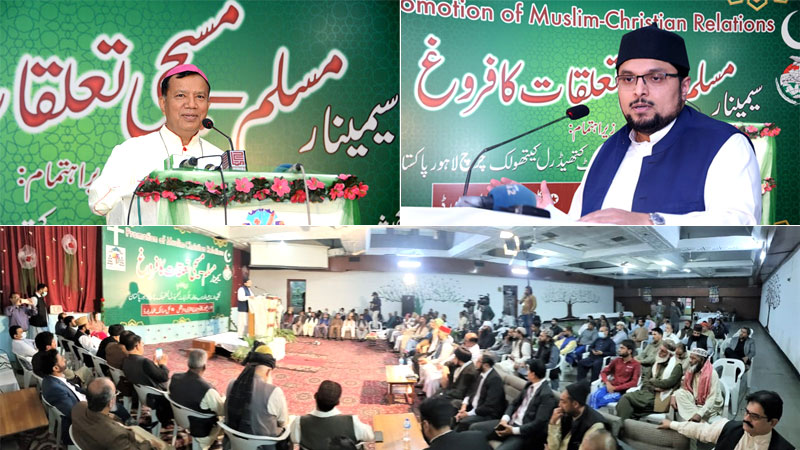 The Commission for Interfaith Dialogue arranged a seminar in collaboration with the department of Interfaith Relations, Minhaj-ul-Quran International (MQI), on the topic of the promotion of Muslim-Christian relations. In their speeches, the speakers stated that all divine Books impart a message of peace and love to their followers. These holy Books promote convergences and discourage divides. They said that we need to broaden the horizon of our thinking based on argument and logic. They said that Pakistan is a beautiful and tolerant country where the concept of interfaith harmony is deeply rooted.
The faith leaders lauded the contributions and services of Shaykh-ul-Islam Dr Muhammad Tahir-ul-Qadri for the promotion of peace and interfaith harmony not only in Pakistan but also in the world. They said that Dr Qadri has emerged as a leading voice calling for dialogue among civilizations and religions to build bridges of understanding. They emphasized that his work on this important aspect of interfaith relations need to be taken forward in a structured manner.
Held in the Sacred Heart Catholic Cathedral Church under the joint banner of MQI Interfaith Relations and All Masalik Ulema Board, the seminar was attended by President MQI Dr Hussain Mohi-ud-Din Qadri, Archdiocese Catholic Church of Lahore Archbishop Sebastian Francis Shaw, Chairman All-Masalik Ulama Board Maulana Muhammad Asim Makhdoom, Director MQI Interfaith Relations Sohail Ahmad Raza, Reverend Dr Majid Abel, Reverend Emmanuel Khokhar, deputy moderator Raiwind Diocese Church of Pakistan, Jamiat Ahle-Hadith Allama Abdul Wahab Ropari, Hafiz Ghulam Raza Naqvi, Allama Zia-ul-Hassan Najafi from Jamia-tul-Muntazar Lahore and a large number of interfaith scholars.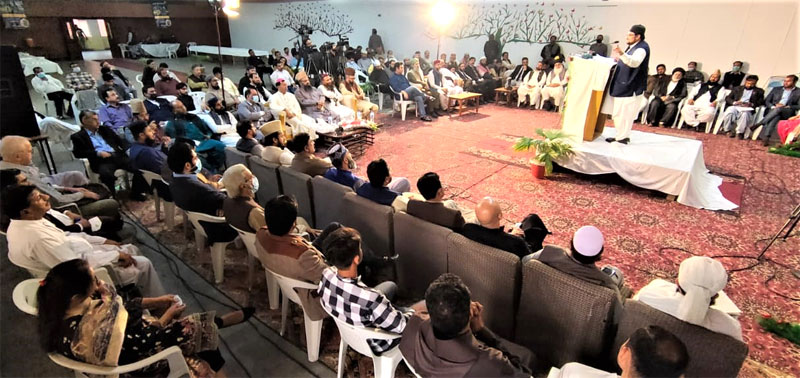 President Minhaj-ul-Quran International (MQI) Dr Hussain Mohi-ud-Din Qadri, in his address at the seminar, thanked the faith leaders for their acknowledgement of Dr Tahir-ul-Qadri's and MQI's role in fostering dialogue and engagement between various cultures and religions. He said that our history and literature urges us to promote interfaith relations particularly with Christian community. He quoted the Medina Pact, the letters written by the Holy Prophet (peace and blessings be upon him) and references from the Quran and Hadith in support of his argument, adding that there is a need to refer to the examples from the earlier times today to build bridges. He said that decent and civilized conversation leads to understanding and building of relation between religions and communities. He said when the Holy Quran says that this community (Christian) is closer to Muslims, then who is it that separates us from each other?
Dr Hussain Mohi-ud-Din Qadri said that if we have got together to mull over the ways and means to strengthen the bond between Muslims and Christians today, it is because we make a beautiful family. He said that Allah Almighty called the people of the Book 'One Family'. He said that the message imparted by the Quranic teachings is one of generosity, understanding and openness. He said that places where the lived experience is shaped by freedom of religious practices, such places and societies will be known as hub of peace and justice. He said that the Holy Prophet (peace and blessings be upon him) advised Muslims to migrate to Abyssinia at a time of great ordeals, which was ruled by Najashi (The Negus), a just and fair King. He said there is a dire need to promote and connect to the teachings of the Holy Quran today to beat all manner of conspiracy theories and efforts at sowing the seeds of discord and misunderstanding between both great religions.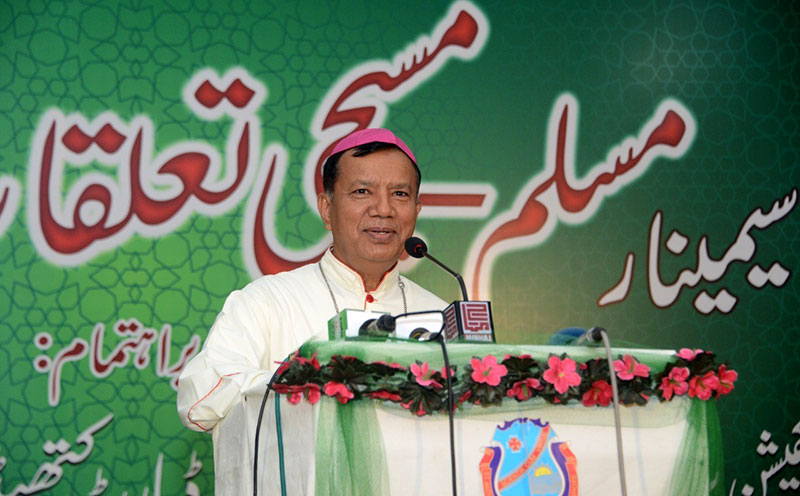 Speaking on the occasion, Archbishop Sebastian Francis Shaw underlined the need for reviving Muslim-Christian relations that existed 1400 years ago. He said that all religions promote respect for each other, adding that we need to continue with the process of imparting moral training, as these things play a vital role in strengthening societies and bringing families together. He said that the textbooks contained material in the past that built bridges but unfortunately, such things have been eliminated.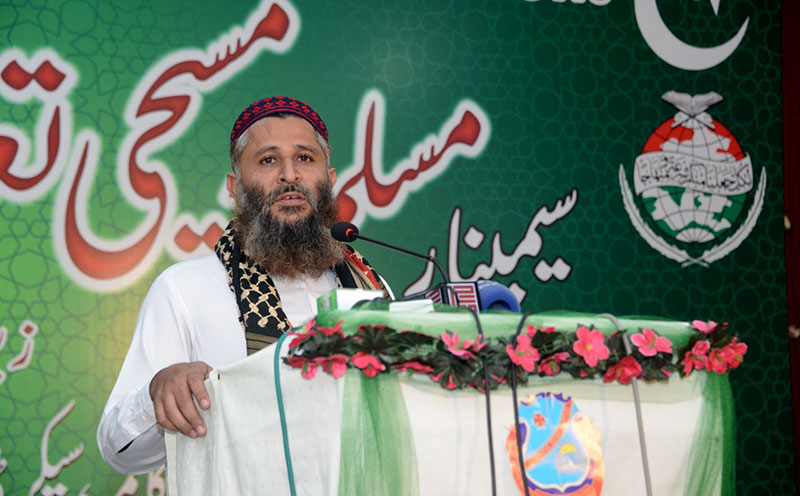 Chairman All-Masalik Ulema Board Maulana Muhammad Asim Makhdoom said in his speech that alienation can be ended through interfaith dialogue. He said that we should emphasize common things between us, stating that tolerance and interfaith dialogue should be pursued as a matter of priority. He said that it is our collective responsibility to make the young generations aware of the traditions of exemplary bonds between Muslims and Christians. He said that the people of all religions in Pakistan strongly cherish the feelings of love, and respect for one another.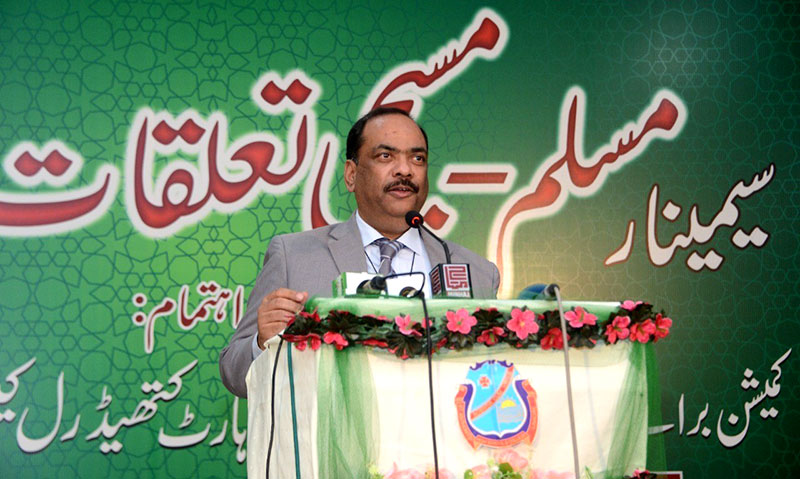 Moderator Presbyterian Church Reverend Majid Abel said that we will have to promote positive things in our neighborhood and society. He said Pakistan is a beautiful country that respects all religions and gives them complete freedom to practice their religious teachings. He said our motherland is incomparable.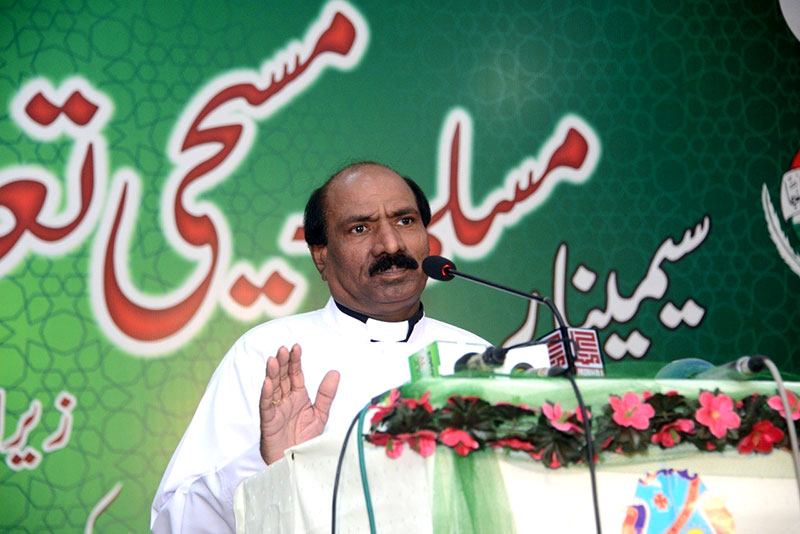 Reverend Emmanuel Khokhar said in his remarks that Christian teachings educate us about love, brotherhood and peace. He said that our forefathers used to live together in perfect peace and harmony and it is indeed unfortunate that our relations are now threatened by hatred that has crept in our ranks, stating that we need to get rid of this hatred.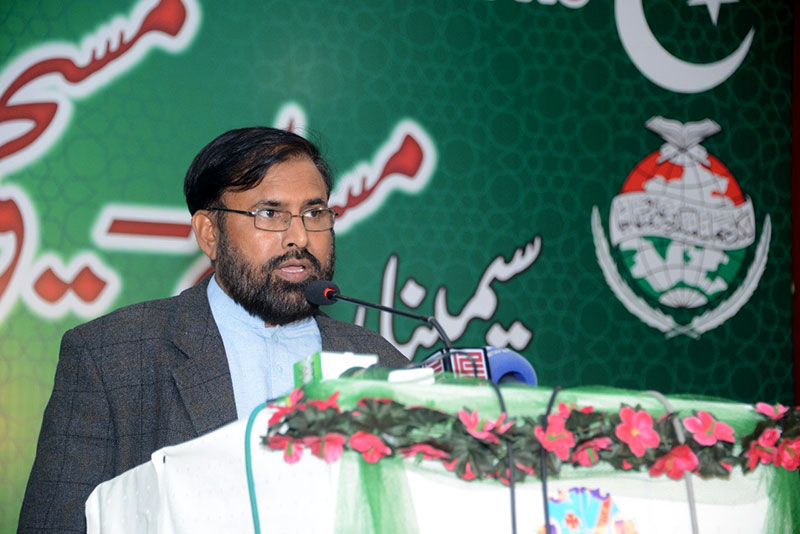 Speaking on the occasion, Sohail Ahmad Raza recalled an incident from history wherein Dewan Bahadur SP Singha, the then speaker of the Punjab Assembly, used his casting vote in favour of the inclusion of Punjab in Pakistan at the time of independence. He said, that this step laid the foundation of Muslim-Christian relations in Pakistan. He said that the members of Christian community have rendered great services in the fields of medicine, defence, and education. He said that Pope John Paul appointed his ambassadors throughout the world to improve relations with the Muslim world. He said that the services of Christian leaders are praiseworthy for the promotion of Muslim-Christian bonds.