The URI Pakistan held a demonstration rally at Lahore Press Club against the Burning of "Holy Quran" on 9th of September 2010.The protest was attended by Bishop Samuel Robert Azriah, Moderator Church of Pakistan, Pakistan Catholic Bishop Conference, NCJP, National Council Church of Pakistan, Minhaj ul Quran International and other civil society organizations. All participants condemned this plan, calling it a work of a perverted mindset.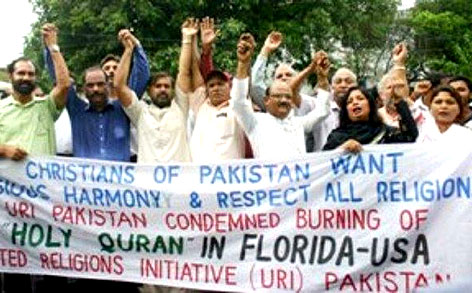 Bishop Samuel Robert Azriah said while talking to Electronic and Print Media that we, the Pakistani Christian community, strongly oppose and condemn Pastor Terry John's 9/11 plan to burn Quran. We respect Muslims and all other religions and their scared Books. The Muslim Umma is the second largest community in the World. As regards Pastor Terry Johns' status, he is not a true Christian and does not belong to any reputed Church. He said that Christians, all over the world, have distanced themselves from his plan, condemning it as shameful and anti-humanity. It is his personal act. By doing so, Terry John was violating the teachings of Christianity and bringing a bad name to the entire Christian community.
Mr. Yuel Bhatti, Executive Secretary of URI Pakistan, expressed his view that URI has condemned this shameful act. We are promoting interfaith harmony and peace in the world, especially in Pakistan. The purpose of the United Religions Initiatives (URI) is to end religiously-motivated violence. "Being a Christian, I strongly condemn such acts as they are against the teachings of what my religion stands for," he proclaimed. He also said that the Christians have deep solidarity and enjoy cordiality with Muslims brothers and sisters and respect all religions.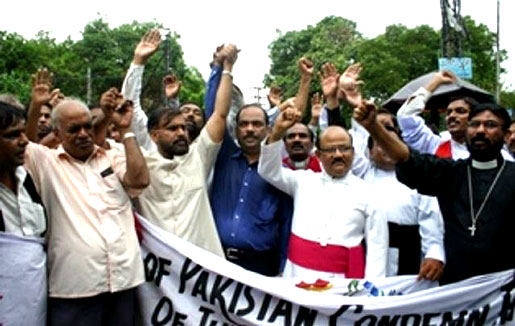 Mr. Sohail Ahmed Raza, Director Interfaith Relations of Minhaj-ul-Quran International, thanked the URI and all Christian brothers and sisters who organized this large demonstration and showed their deep love and solidarity with the Muslims. That is the true example of interfaith relations, he observed. He said that all of us should join hand for interfaith harmony and single out such people as Terry John.
The protesters burnt the effigy of Pastor Terry Johns. At the end Bishop Samuel Robert Azriah prayed for peace among the religions and expressed his solidarity with the Muslim community. He prayed to Almighty God to guide Pastor Terry towards the right path. He also extended his felicitations to the Muslim community on the holy month of Ramadan and Eid ul Fitr.
A large number of clergy from all denominations, heads of Churches, representatives of civil society, peace promoters and URI members' ladies and gents participated in the protest.